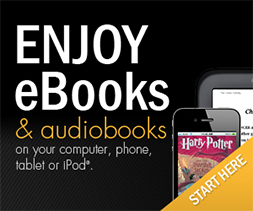 Welcome
Welcome to the California Area Public Library, the right stop for your information and entertainment needs. Climb aboard the Information Station for California, Allenport, Coal Center, Long Branch, Elco, Roscoe, and West Pike Run Township. Explore the five literacies with us: Basic, Information, Civic & Social, Health, and Financial.
"Moving Forward: Keeping on Track"
News
Become our Library Program Specialist! Click for the full job description. Our specialist will create and lead three activities each week. The librarian has many ideas and materials ready for use.

Thursday, SEPTEMBER 12 is Washington County Gives Day!

Find us at wccfgives.org
YOur annual donation of $25 or greater increases in value when you give on WCCG Gives Day. Thank you for helping your local library stay on track and open for exploration. Thursday, September 12 until 8 a.m. You may also stop in the library to pick up a mail-in form but it must arrive at WCCF office by September 8.

$15,000 GRANT RECEIVED: Speaking of giving, the Washington County Community Foundation awarded California Area Public Library a grant to fund a dedicated Library Program Specialist for three years. This project will mark the first time for programming to be a paid rather than volunteer position. We hope is begins an era of fun and learning for our patrons, familiar and new.

Annual Giving 2019: NOW is the time. ANY TIME is perfect. (Paul Cech and J. Grimes are our first 2019 donors!) When you donate $20 or more, we will present you with a blue string backpack bearing our logo and acknowledging that you "Climbed Aboard." Libraries offer free access to all those in good standing, but libraries are costly endeavors. The state expects us to raise $5 each for the 10,640 people living in the communities we serve; that's significantly more than our annual budget. State and county support increases when our community shows that it cares about California Public library by laying down some dollars. While donations of books and other items are always appreciated, when it comes time to file the state report upon which our funding rests, the important factor is how much cash our citizens, school district and municipalities donated to the library.

THANK YOU! to the 17 people who donated $2,265 to us on 2018 Washington County Gives day! We remind them to stop by and pick up their backpacks. The names of these generous souls--and all donors for the pas two years--are presented on our Donations page.

We are truly grateful each time you make a cash donation or memorial book gift but, we also want to remind you that cash donations from residents, busineses and community government are what the state and county officers are looking for when they decide how much they will fund California Library in 2019. Your cash donations pay staff and utilities, fund upkeep and, of course, help us to expand our book collection, offer free access to computers, provide adult and children's programming, and generally keep the library Moving Forward! Please consider donating before December 31. We send a hearty "Thank you!" to our loyal patrons.

A KNIT & CROCHET group enjoys meeting between 11:00 a.m. to 1:00 p.m. Arrive any time during that time. They gather every second and fourth Tuesday. All skill levels are welcome; needles and yarn will be available for beginners. Bring any project you are working on or one you want to begin or need advice with. Contact Candy Treser or leave a message at the library for her.

ONE TAP READING. THAT'S LIBBY. . . . Libby is OverDrive's free one-tap app for borrowing digital books and audiobooks. It works with Android, IOS (iPhone/iPad/IPod touch) and Windows 10 devices. Visit your app store, search "Libby", install the app. Open it and find your library (search by library name, zip code, or city). Browse your libray's collection. Simple! You'll need to sign in using your library card when you are ready to borrow an item. Borrowed items download automatically and are stored on your Shelf so you can read when you're offline. (We're happy to help you figure it out.)

Visit our LINKS page to explore ACCESS PENNSYLVANIA POWER Library digital resources for every age. It's where you'll find an up-to-date reference collection and so much more.

Have you used your library card lately? Remember, Waggin Network library cards must be used at least once every three years or they expire.

Children's Fun: STORY HOURhas been put on hold for lack of attendance. If you are interested, please give us a call so we can begin planning new sessions. Or, becomeour new Library Program Specialist.

New! POWER Teens is available from a feature box on the POWER Library homepage or directly from:

Teens Power Library
. See our links page, as well. There you will also find a link to Scholastic Science Flix.

MEMORIAL GIFTS and HONORARIUMS: An enduring tribute made in the form of a book, a technology upgrade or a grounds beautification/comfort improvement, your gift will be marked and will be announced to the appropriate honorees. Many people donate $25 or more when presenting a gift for a book. Gifts are announced on our Donations page, where you'll find a downloadable gift form.

Thanks, Matt! During the winter of 2019, our Board's tech-guru graciously donated and installed two smart thermostats to help the library save money. Matt is pleased every time he's able to help us blend twenty-first century solutions into the ambiance of our historic train station. And so are we. He's a treasure.

If you have overdue library materials, we've probably called you several times. Please return them soon. Our drop box is always open.

Visit our Links page for helpful information about coping with or recovering from SUBSTANCE ABUSE.

LEGAL ASSISTANCE: PCAR Sexual Violence Legal Assistance Project provides short-term help for victims of non-intimate partner sexual assault where services are not available. For legal assistance call the Pennsylvania Coalition Against Rape (PCAR) at 717-901-6784.

VOTER'S GUIDE

The League of Women's Voter's Digital Guide
is available here. For a print copy which you may keep, please visit the library.

Tools to help you Register to Vote: Here are some links to help you:

*Register to Vote*"
,
*Check Your Registration Status*"
",
*File for Absentee Ballot*"
and *Sign up for Election Reminders*."
Or visit the entire Voter Registration site,"
sponsored by everylibrary, when you click this link. (Warning: You will be directed away from calpublib.org each time you click on a link.).

PA Forward Star: Pennsylvania Libraries is coming to our library! You are an essential player in our quest to earn Bronze Star status. The program helps each of us to Build a Better World for Pennsylvanians. Keep your eyes open for details during your next visit.

STORY TIME: Has been put on hold for lack of attendance. If you are interested, please give us a call so we can begin planning new sessions. Each Story Time includes a snack and activity. Walk-ins are fine but calling to add your name to our list helps us to better prepare; we'll give you a call announcing each new session. We plan for 12 children; please make prior arrangements for large groups. Summer Learning Quest for elementary students follows the state library's annual theme; in 2019 we'll be observing the 50th U.S. anniversary of space exploration by focusing on activities that encourage science, technology, engineering, and math (STEM). Contact us at 724-938-2907 or director@calpublib.org for more information about children's programs.

OPPORTUNITIES:

AMAZON SMILE--Shop here first when you buy online and amazon will contribute a wee bit of coin to our library. Sometimes there's a $5 bonus incentive. Every penny helps us. (But only a shopaholic could match the value of a standard annual gift to the library.) Just set your browser to www.smile.amazon.com and choose California Area Public Library.

RENT AN LCD PROJECTOR KIT from us and add a special focus to your next family event, business or club meeting. Our kit includes the projector, a screen and, if you need it, a laptop computer. You provide the photos or PowerPoint show. $20. We suggest you allow time for our staff to walk you through the process of setting up, if you're not familiar with using audio visual equipment.

INVESTING FOR OUR FUTURES: Many of our donors have been contributing to the Library for decades. They know that a public library is a community treasure. Please visit, volunteer, and donate this year. YOU are vital to our mission to provide everyone with access to information in a happy space where we all thrive. Our fundraising goal for 2018 is $30,000. We bet you did not know that we habitually fall short by $23,000 below what the state expects us to raise. Please remember this the next time you think to yourself, "They're always asking for money, and yet they never close." We haven't had any support from our school district since 2011, and fewer than half of the communities in our service area make annual contributions. Everyone is feeling short of funds, we understand. But if everyone gave something (and those who can gave a bit more), we might be able to meet the state's expectations. We are especially grateful to those donors who have moved from the area but continue to give, or who don't often use the library but habitually give. We thank each and every donor, local or not.

Fund Raisers: LITTON'S GIFT CERTIFICATES: Each $10 certificate returns $2 to the library. Keep a few on hand as emergency gifts, or simply help out the library by purchasing a few before you visit Litton's Greenhouse in Richeyville. Other fund raising items at the library are American Tradition woven baskets, tote bags, cloisonne pins, stationary, historic maps of California and the ever-popular bundles of used books. By the way, we always have used books on display for purchase: $1 a book or $5 for a plastic grocery bag full.

GOT PAPER SCRAP? The paper recycling bin is back (but is no longer sponsored by the library). Please be considerate and keep the area neat; if the bin is full, take your papers back home. Plastic bags go home with you, also: not into or around the bin. Read the restrictions clearly painted on the bin. Cardboard does not recycle here! Many Californians appreciate the convenience of the Royal Oaks Paper Recycler bin. Don't be the person who creates a "this is why we can't have nice things" situation. (Please note: This is not the place to get rid of any cardboard!)

IN MEMORIAM

We miss Lou Petrucci reading our newspapers, relaxing in the easy chair or spreading them out on the tabletop.

We are sorry to learn that one of our longtime favorite patrons, Virginia Sikora, has passed away. We enjoyed our weekly chats when Virginia visited to borrow five books. Even more, we enjoyed the challenge of scoping out new books that we knew Virginia would enjoy. The Library Board has presented three books in memory of Virgina.

It is with great sadness that we note the late August 2017 passing of Ethel Rankin, age 93, of California. One of our Library's "unsung heroines", Ethel served as a trustee and treasurer for perhaps two decades. As the late Wyona Coleman (Library Director) often boasted, "Ethel never lost a penny." After Ethel retired from our Board, for the next nearly two decades she remained a regular library visitor. She consistently gifted the Library with a substantial contribution, which usually arrived when our needs were crucial. In fact, she bequethed us with a generous gift that enabled us to replace the public access computers, purchase a new printer/fax and upgrade our exiting computers in our office. Ethel was a true lady and we very much miss her conversation.